A seamless means for wirelessly controlling your camera from a mobile device or computer, the Case Air Wireless Tethering System from Tether Tools is a compact device affording remote control and monitoring capabilities. The Case Air attaches to your camera via USB connection, and can be mounted via its hot shoe, and then produces an 802.11b/g/n ad-hoc Wi-Fi network for connecting to the camera via the Case Remote app for iOS or Android. A wireless range of approximately 150' is well-suited to a variety of on-location shooting applications, and within the app you are afforded a live view image along with tap-to-focus control, and pinch-to-zoom within the live view image for more critical focusing. Within the app you can also adjust exposure settings, including aperture, shutter speed, and ISO, as well as access creative shooting controls, such as exposure bracketing, bulb timer, focus stacking, HDR, and time-lapse shooting modes. The Case Air also lets you wirelessly share imagery from your camera to your mobile device for instant sharing on social media.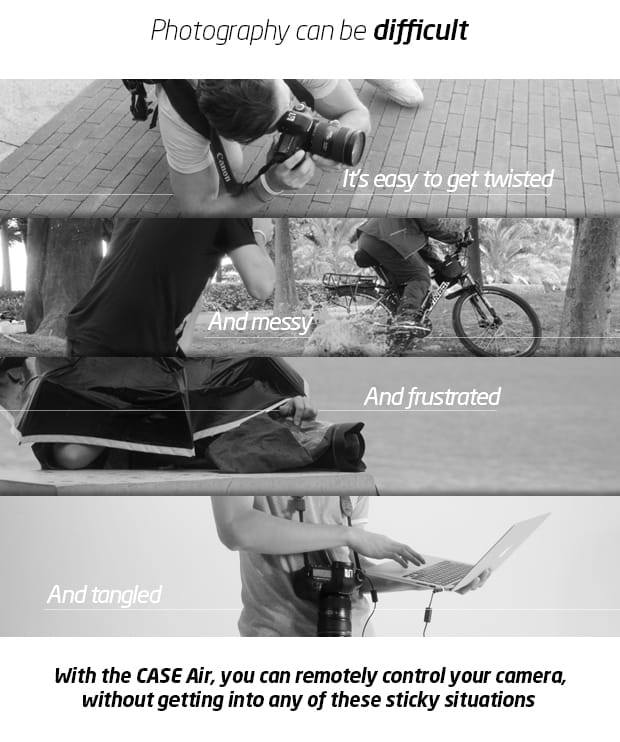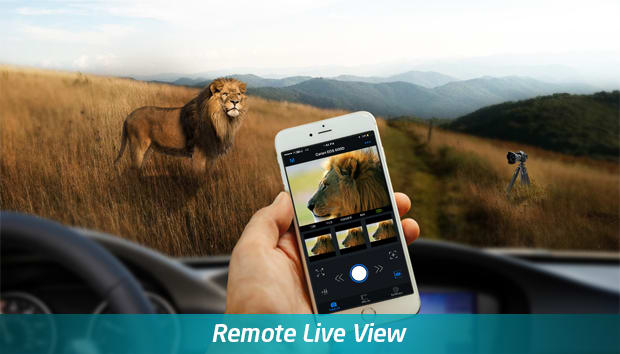 Photography can be dangerous. With the CASE Remote Air, you can live-view your photos directly from your iPad, iPhone or Android devices. This controller also provides other assistive functions, including touch focus, full screen live-view, and assistive scaling.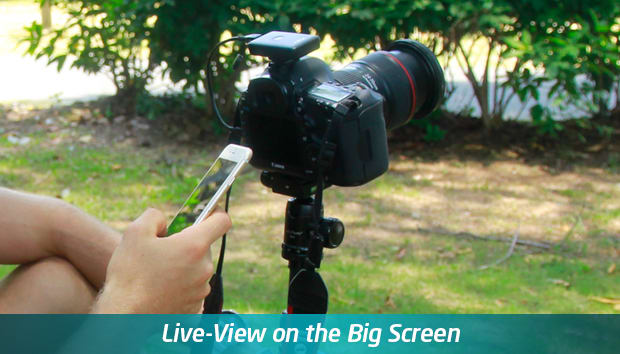 Do you find yourself squinting at your camera's tiny preview screen? With the CASE Remote Air, you can remotely capture images, and then immediately view them in full resolution on your mobile device or PC. You can then directly upload and share them using the CASE Remote Air's WiFi hotspot.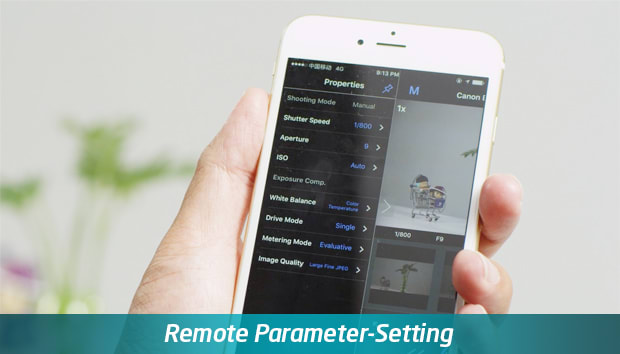 The CASE Remote Air can help you remotely set your camera parameters from as far away as 55 yards (50 meters). You can remotely set your camera's aperture, shutter speed, ISO, white Balance, AF, drive/shooting mode (single, continuous, etc.), metering mode, and more. It also allows you to adjust bulb and video control.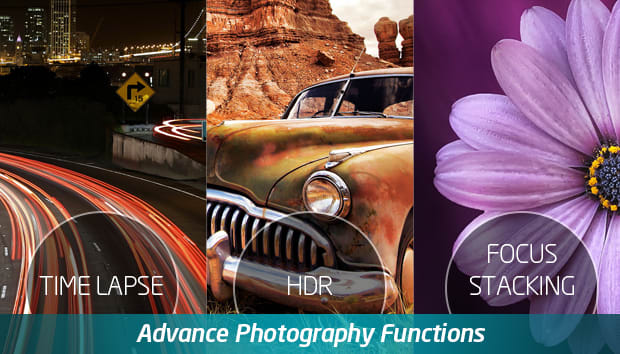 The CASE Remote Air's built-in app makes it especially suitable for time lapse photography, HDR, and focus-stacking.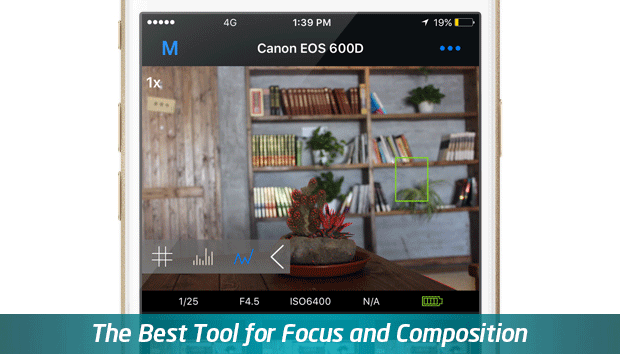 The CASE Remote Air is your photography assistant, equipped with Peak focus, RGB histogram and grid.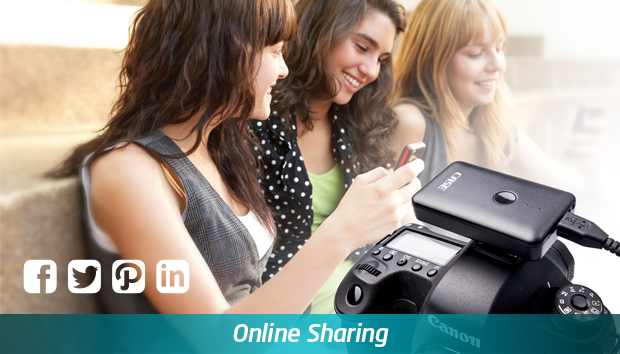 The CASE Remote Air allows you to wirelessly control your camera, while maintaining access to your home WiFi or 4G network. You can shoot images, then directly share or upload them through the CASE Air.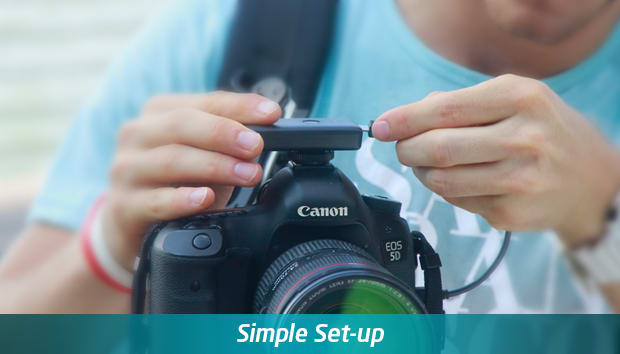 To mount the CASE Remote Air, you only need a hot shoe, 1/4" screw hole and clip. The lightweight CASE Remote Air is easy to carry and transport, and can be used with the CASE Robotic Camera Mount to have total control over shooting angles.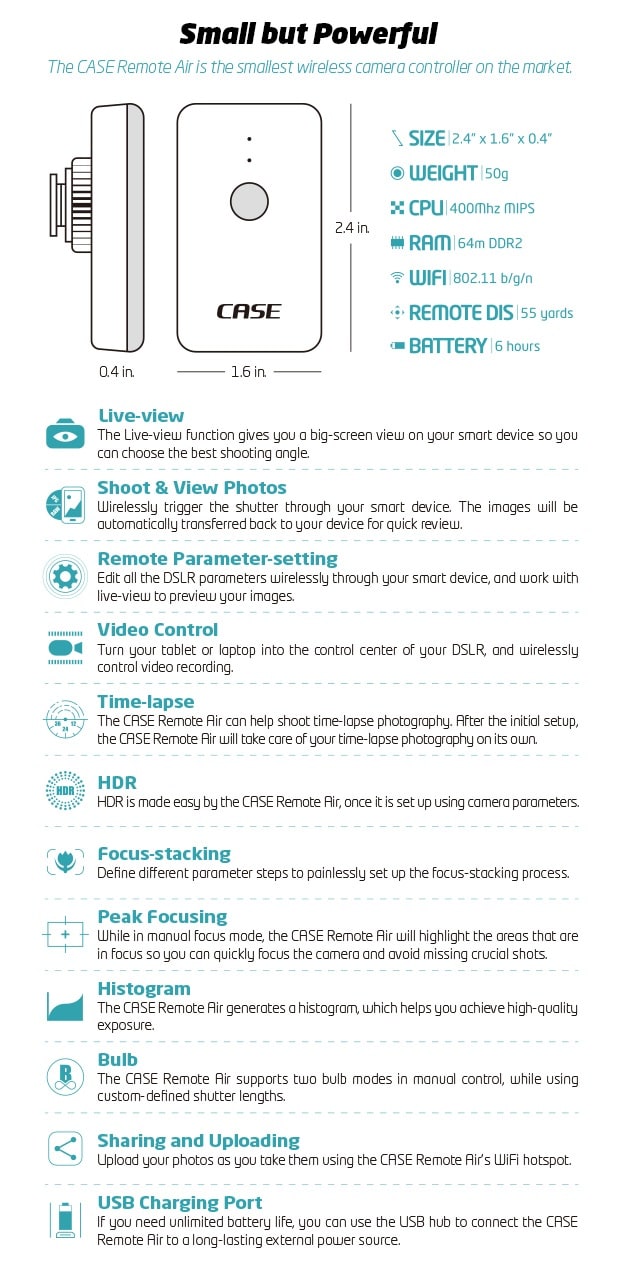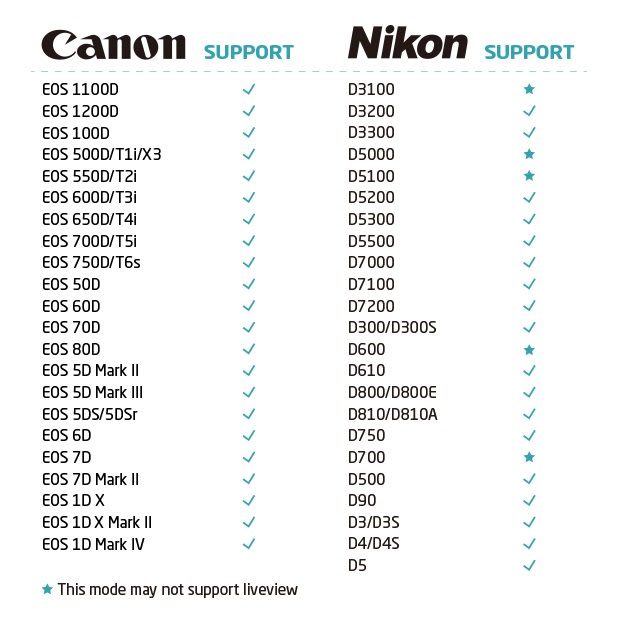 Case Air Wireless System FAQ
Getting Started
To start, verify the following:
The Case Air is fully charged (green light) – Please charge the Case Air via a Wall Adapter or a power bank battery.
Have fully charged batteries in the camera.
Disable WiFi communication on the camera itself and/or have removed any WiFi cards in the camera.
If the camera takes two cards, please use just one.
The correct cable is connected from the Case Air into the USB port on the camera.
Best practice for start up:
Turn off your camera and the Case Air. Completely close the app or the software if you have previously opened it (do not simply not minimize it).
Then follow this sequence:
Keep the camera turned off
Connect the Case Air cable to the camera via the supplied USB cable
Create the WiFi network by turning on the Case Air (press & hold 2 seconds, a blue flickering light indicates the Case Air is creating the WiFi, a solid blue light indicates the WiFi network is created)
Connect your device (tablet or phone or computer) to the Case Air WiFi
Open the app or software
Turn on the camera and allow the app/software to recognize the camera – tap Refresh if needed.